Thrive in 5: Hiring Your Next Superstar Employee
01 Mar, 2023
5 minutes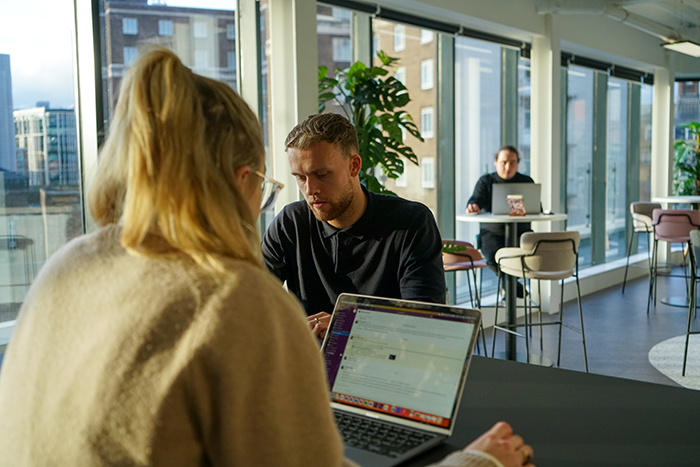 This week, we're focusing on hiring, recruitment, talent acquisition. A process with many names but one purpose - bringing fantastic new team members into your business.
At Charlton Morris we've been building brilliant teams for 10 years, and we've scoured the best and brightest minds from within our business to pull these tips together.
#1 Know your audience
If you haven't yet, create some buyer or ideal candidate personas.
Creating personas is a common tactic used by marketing teams to try and get in the head of your target audience.
Think about the language you use, their interests, their current position and what they want to hear. Then plan your messaging and outreach around them.
Blanket messages sound like blanket messages.
#2 Plan ahead (and share the plan)
If every time you hire it's reactive and super-fast paced then you're only going to find the candidates that are available there and then.
Planning your hires for the next 3 or 6 months means you and your TA or recruiting teams are able to take more time over the hires you make. That means you can work hard on finding the perfect person as well as just contacting who is available right now.
#3 Build talent pipelines
Talent pipelining is using the above information and grouping prospective employees together in groups.
You might not be pursuing these groups immediately, but having them ready to go for when you are means you can act fast when the time comes to fill a vacancy.
Bonus Tip: If you have LinkedIn Recruiter - setting when people are open to opportunities whilst grouping candidates together in a project is a great way to learn when top talent comes on the market.
#4 Act like a recruiter
If you have a role to fill, approach the task of filling it like a sales person.
Set yourself goals and work towards them when it comes to numbers of contacts, messages and conversations with prospects.
Being disciplined and targeted, (not unlike an external recruiter), will lead to higher fill rates and shorter times to fill for your internal teams.
#5 Build engaged communities
The very best TA and HR teams are behaving like growth marketers. They're building rich pools of talented individuals for their target audience. Then when it's time to hire, they dip into their pools.
This is a sophisticated approach. It combines everything you've learned above but is highly effective. If you can deliver consistent, relevant content to these groups, they'll be used to hearing from you on a regular basis.
Having this 'always on' approach to talent communities will also lead to the holy grail - inbound applications from fantastic candidates who see you as an aspirational employer. Not just somewhere different to where they are now.
Whether you're in a TA, HR or leadership role within your organisation I hope these tips help you hire your next set of superstar employees.
Thrive in Five is our weekly blog designed to help your people and business thrive. If you have a topic that you'd like to suggest for a future edition of #thriveinfive, send us an email to thriveinfive@charltonmorris.com.