Thrive in 5: Winning the War for Talent as a Start-Up
12 Apr, 2023
5 minutes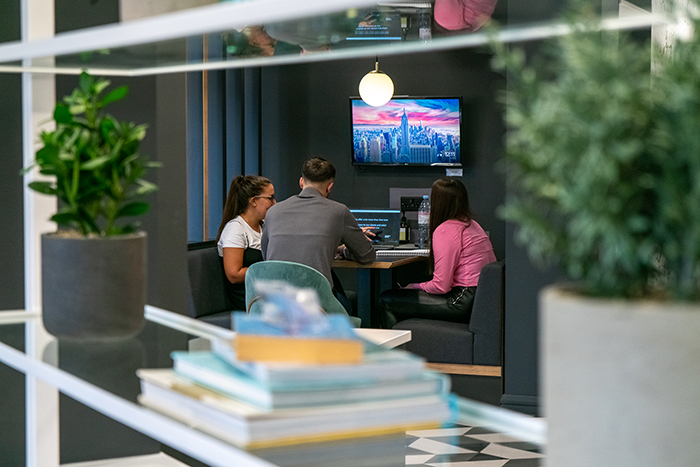 This week is dedicated to supporting start-ups. More specifically, helping you attract and hire the very best talent in your market.
How do you strategise? How do your ensure that you're putting your very best foot forward with your employer brand? And have you designed a slick hiring process that secures the very best industry talent every time?
In this blog, we'll be providing advice for all of the above.
Today's tips have been provided by Eleanor Doolin and Nathan Sharpe, two of our talent solution experts at Charlton Morris.
#1 Inform your strategy with data
As a growing business, your hiring decisions are more likely to have a major impact on the future of your company. So, strategising is everything.
Start by defining the roles you need to fill and the required skill sets. It's essential to be open to different skill sets and acknowledge what you don't know or don't have.
When you've got an idea of the profiles that you're after. Ask yourself: "do you know that this talent even exists in your market or location?"
Having a full picture of the territory, demographic and breakdown of your target market could save you a lengthy search and hiring process. So, investing in a data report or a research project to better understand the talent landscape, is worth considering.
This is especially true if you're making commercial hires to expand into a new market or territory and you're facing many unknowns.
#2 First impressions matter, so don't ignore your employer brand.
Many start-ups have amazing, exciting products. But that only forms part of your talent attraction and employer brand. Sometimes a fantastic technology with high potential won't be enough to get your ideal hire through the door.
If people are committing their future to a start-up, they often need more. They need to understand what life is like at your company. What is the culture like? What would their futures look like for them and their families? What's the roadmap for your business? What makes your start-up different?
Candidates are not just looking for a job. They want to work for a company with a purpose and a culture that aligns with their values. Every start-up has a compelling story. So, use your mission to stand out from the competition.
Remember, your brand won't speak for itself. So, utilise an employee advocacy strategy to get your people talking about your start-up as an employer with their networks.
#3 Job Adverts v Job Descriptions
Within increasingly candidate-driven markets, you also have a responsibility to convince people that they should choose a future with your business (not your competitors).
So, try to avoid job descriptions with a list of requirements when advertising your roles. Provide a job advert that excites your candidates. Tell them about the possibilities of a future with your business.
60% of job seekers abandon job applications due to their length and complexity. So, keeping job adverts short and sweet is often the best policy.
#4 Provide a great candidate experience
Once you have attracted quality candidates, understand that start-ups are expected to act fast. The length of the hiring process is a crucial factor, so streamline your hiring process, while still being detailed.
Think about your reputation throughout. Be honest about the job's demands and do your best to create an amazing candidate experience by being thorough and communicating effectively throughout. Ensure that candidates feel engaged and that their experience with your company is positive.
#5 Communicate your long-term plan.
It's essential to communicate your long-term plan to candidates during interviews, so that they understand your vision and what you are trying to achieve. This will allow them to make an informed decision about whether your start-up is the right place for them to build their career.
This is an opportunity to excite your candidate. But it's also important to be clear and honest about your company roadmap to avoid frustrations further down the line.
Transparency is also helpful when working with an external search partner. Understanding your roadmap will help when screening candidates and empower your partner to build a pipeline of prospective candidates to benefit your business in the future.
Winning the war for talent is an ongoing battle for many start-ups. So, remember to strategise (using data where possible), to have a strong employer branding, to write engaging job adverts, to provide a great candidate experience and to be transparent when communicating your long-term plan.
If you'd like to discuss any of the above points or have a suggestion for a future edition of #thriveinfive, just drop us an email through to thriveinfive@charltonmorris.com.
Thrive in Five is our weekly blog designed to help your people and business thrive.